2023 Recycling Pick Up Days:
Recycling is picked up EVERY OTHER Monday
Jan 2, 16, 30
Feb 13, 27
Mar 13, 27
Apr 10, 24
May 8, 22
Jun 5, 19
Jul 3, 17,31
Aug 14, 28
Sep 11, 25
Oct 9, 23
Nov 6 20
Dec 4, 18
~Should your garbage day fall on or after any of the following holidays (excluding if it falls on a Saturday or Sunday), your garbage will be picked up one day late for that week. Remember, when in doubt, put your container out!
New Year's Day
Memorial Day
Independance Day
Labor Day
Thanksgiving Day
Christmas Day
A Few Reminders:
Please place containers at least 6 feet from other containers or objects.
Please DO NOT block containers with vehicles
Please DO NOT overload your container. If the lid is open more than 2 inches, it is considered to be overloaded. Please contact Huntsville Town if you need an additional container.
Cardboard boxes MUST be broken down, and/or cut into small pieces. Please do not lay flattened boxes on top of container.
Please only place acceptable recyclable items into your recycling container (see list below).
We recommend you hang a copy of the Recycling List on your fridge and next to your trash cans until you become familiar with recycling.


LIST OF RECYCLABLES AND NON RECYCLABLES
RECYCLABLES:
All #1 and #2 Plastics
with the symbols below on them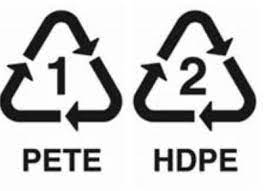 Hint: Flatten and rinse containers
Soda, water bottles, plastic cups/plates (clean)
Plastic milk cartons, 5 gal buckets, Ice cream Buckets. Syrup bottles, grocery bags
Most plastic cleaning fluid containers
Cardboard/Poster Board/ Fiber
Hint: Cut into 2 feet by 2 feet pieces and all wax paper or foil liners must be removed
12 Pack drink boxes
Egg cartons, macaroni boxes, etc.
Cereal boxes, Kleenex box
Toilet paper/Paper towel rolls
Frozen juice containers (remove Metal rings)
Paper
ALL PAPER: not contaminated with food or greasy stains, wax or foil lined
Junk Mail, post cards, envelopes
Magazines, telephone books, catalogs,
Dog food bags, flour/sugar bags
Newspaper
Shredded paper (placed in plastic bags)
Aluminum & Steel
Pop cans, coffee cans
Tin foil (clean), metal clothes hangers
Food/soup/veggie/fruit cans (labels okay) Steel Nuts and bolts
NON-RECYCLABLES:
Plastics not marked #1 or #2
No bubble wrap, cellophane or trash bags
No chunks or bulk plastics (wading pools)
No yogurt containers
No motor oil containers of any kind
No plastic can holders (6 pack holders)
No soda cups that are refillable
No Styrofoam pellets, coolers, egg boxes
Contaminated Paper
No paper plates, cups with food or greasy stains
No paper with wax or foil liners
No wet or used paper towel, etc.
Cardboard/Pasteboard/Fiber
No cardboard Milk/juice cartons
No hot Cocoa Containers, etc. with Wax/foil lining
No To-Go Boxes, Drink cups from Gas stations or fast food restaurants
Aluminum & Steel
No aerosol/pressurized cans
No outdoor furniture
No large items (pipe, steel, bikes, swing set, etc.)
No metal buckets (paint cans or lids, etc.)
Miscellaneous
No glass of any kind
No carpet or carpet pad
No rubber materials
No tires or wheels
No yard debris (branches, bushes, grass, soil or gravel)
NOTE: Do not place bagged recyclables in the Blue Can. Bagged materials will be considered garbage and will not be picked up unless obviously newspapers or shredded paper.
If possible, only set out blue recycling can when it is at least half full.