Parks & Reservations
Town Parks and Recreation
Huntsville Town maintains three public parks, the Main Park, North Park and the Aldous Cabin Park, for the recreation and enjoyment of its residents. All are located at 7400 East 200 South. The Main Park is supplied with water, electricity, including public restrooms on the west side and at the playground. Huntsville Park has a playground equipment and ample open space for many kinds of activities including Horseshoes, Soccer, Baseball, Softball, Tennis, Valleyball, and Basketball. We maintain an outdoor ice skating rink in the winter. The Main Park has two picnic pavilions or boweries that can accomodate up to 150 people. There is also a Stage that can accomodate other activities. We are both fortunate and proud to have one of the finest featured parks in Northern Utah.
The North Park has a Soccer Field, 3 Pickleball courts and a drinking fountain. The bathroom is located directly across the street at the Children's playground.
Pickleball Courts
You may reserve a pickleball court by contacting Wendy McKay, olderockhouse@gmail.com, or Cory Hansen at corena.hansen@gmail.com. These court reservations are manage by the Ogden Valley Tennis/Pickleball Association (OVTPA).
Park Bowery Rental/ Pavillion
From May to October, the folllowing Town Park facilities may be reserved for family parties and other gatherings.
West Pavilion(by Church)/Bowery (picnic tables, lights, electricity and water)
East Pavilion (by Park)/Bowery (picnic tables, lights, electricity and water)
Stage (grass seating, electricity)
Park Bowery and Stage Rental Form
if you need to email this form please send to clerk@huntsvilletown.com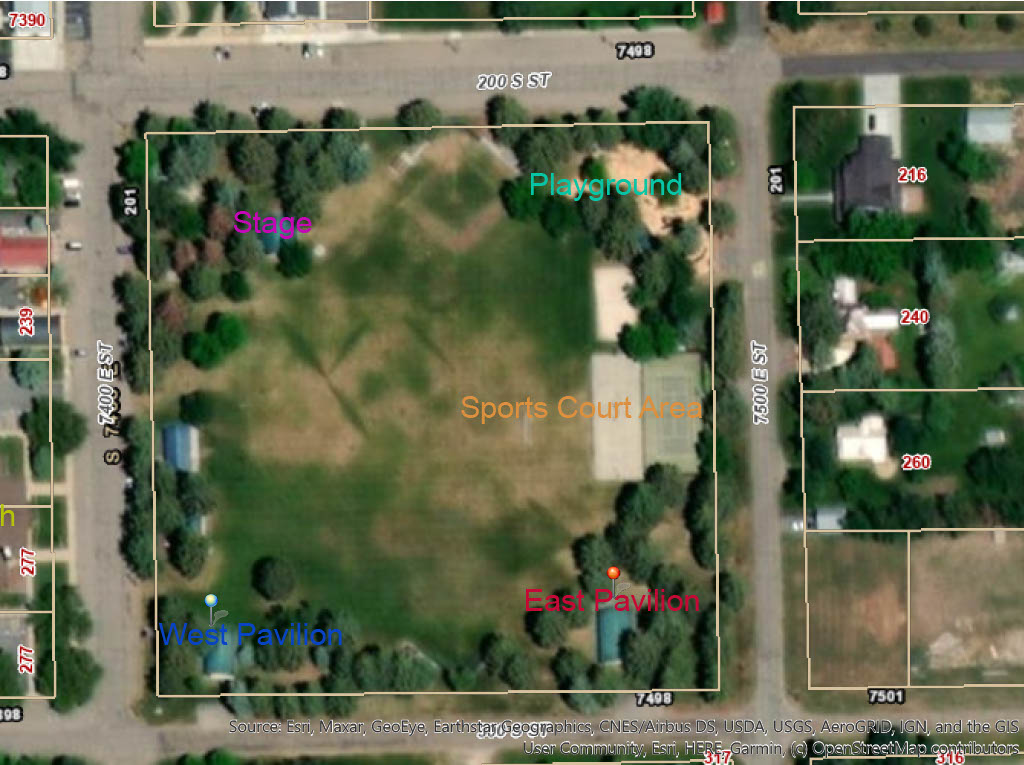 Please check the availability of the date your interested in on the calendar below. If there is availability on that date, please download and print the application form. Fill out the application indicating what times and what pavilion is requested. Enclose the payment of $85 per half day for non residents of the Ogden Valley and $50 per half day for residents currently living in the Ogden Valley. Mail check and application to:
Huntsville Town
Attn: Shannon Smith
PO Box 267, Huntsville, UT 84317
When your application is approved and fee received, Shannon will call you to let you know your reservation is complete. If you have further questions please call the office.
Special Events
Activities held on Town streets or Town property are defined as "special events" when they are an athletic, entertainment, or political activity held for profit, nonprofit, or charitable purposes with the anticipated number of participants plus spectators exceeding 150, or any event/gathering requiring alteration of Town traffic/closing of a Town street.
Fees for Special Events are based on the number of people attending and participating in the event..
150-300 people: $1000 for park rental with a $250 refundable cleaning fee
201-500 people: $2000 for park rental with a $500 refundable cleaning fee
501 and above: $3500 for park rental with at $750 refundable cleaning fee
All applications for special events need Town Council approval. Please download the application below and submit to:
Huntsville Town
Attn: Beckki Endicott
PO Box 267
Huntsville, UT 84317
Special Event Application Form
You will be invited to present your application at a Town Council Meeting held the first and third Thursdays of the month. The Council will make a determination on granting the request based on the impact of the event on traffic, security, welfare, convenience, health and safety of the public and the plans of the applicant to mitigate these concerns. No permit will be granted with evidence of insurance listing the Town as an additional insured. If a permit is granted, the Town makes no guarantees and assumes no liability for the safety of participants or spectators of special events. The event may also require coordinantion with any of the applicable agencies: Weber-Morgan Health Department, Weber county Sheriff Department, local Fire District, other Weber County recreational services that may be impacted.